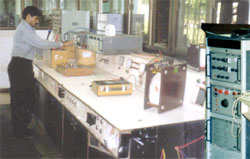 Facilities for Routine Tests:
All the facilities for routine tests as per relevant
ISS/IEC are available at works including Tan
Delta, Partial discharge measurement, etc.

Type Testing:
The products are type tested at CPRI. Bhopal & ERDA Vadodara as per relevant ISS/IEC.

Quality Control:
The products are manufactured under strict quality control to meet the requirements of relevant
ISS and Customer specifications.

After Sales Services:
All the manufacturing units are equipped with requisite staff to render service after sales.