Product Range: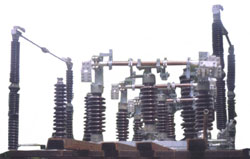 Isolators (Disconnectors) of Voltage rating 12KV to 245KV & Current rating up to 3000 Amps. Manufacturing & Supply of Support Structures for Isolators are also undertaken as per client requirements.

Types:
Rotating type Isolators (Disconnectors):
a. Centre Break
b. Double Break
The double break Isolator (Disconnectors) is provided with high pressure releasing arrangement. Earthing Swithes are also provided as per client requirement. Line / Distribution Transformer Sectionalisers /Horn Gap Fuses /Drop out Fuses for rural electrifications of 12KV & 36KV are also manufactured.
Operating Mechanism: The Isolator are provided with following Operating mechanisms:
(a) Motorised / Pneumatics operated
(b) Manual operation; through reduction gear boxes.
(c) Manually operated through levers.


Auxiliary Switch:
Auxiliary switches with requisite number of NO & NC contacts are provided.


Safety Interlocking:
Requisite mechanical and / or electrical interlocking is provided.


Insulators:
Insulators manufactured by reputed Insulators manufactures are also supplied as per client requirements.